Kristin over at
Discover: Interior Design
blog featured me last week. I feel honored to have been asked to do this and it is so exciting seeing my work on someone's blog other than my own and friends :) Thanks Kristin - I appreciate you - sorry it took me FOREVER to get the questions back to you :) xo
Posted on | September 2, 2009 | 2 Comments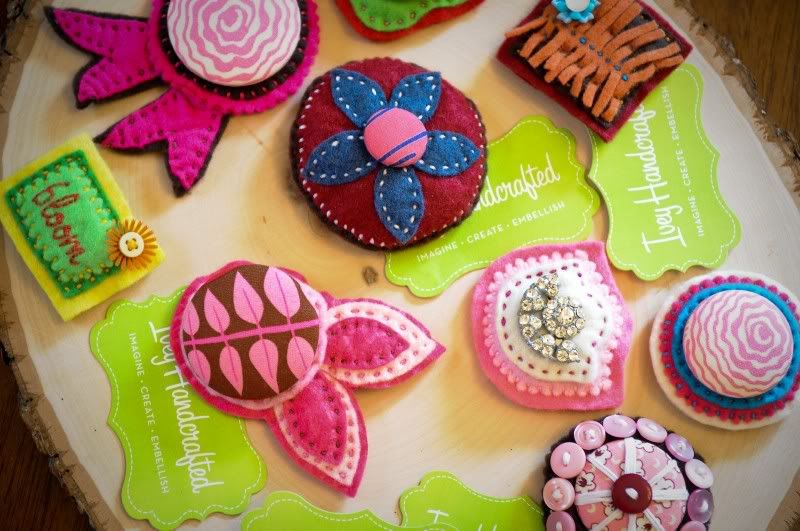 Hello! I'm happy to share the work of Tobi of Ivey Handcrafted today! I came across Tobi's work at the Indie Craft Experience show last Fall (I wrote about it here). This interview has been a long time coming, so I'm thrilled to share it with all of you and hope you enjoy it!
Hey Tobi! Please tell us a little about yourself: I am just a girl living in Chattanooga, TN with her wonderful husband and three fur babies. I consider myself one of the luckiest girls in the world to be surrounded by my friends and family. I love to travel, create and entertain at home. My husband is a full time nursing student and I work at home as an artist and also at a rockin' paper/gift shop.
What's currently playing on your i-pod?
Ingrid Michaelson
Keri Hilson
Joshua Radin
John Legend
But my taste changes daily – love listening to Pandora and finding out about new talent!
What blogs/magazines do you read? magazines…well there should be a support group for my magazine addiction…too many to name. But my favorite currently is Cloth, Paper, Scissors. For blogs – see my list on my blog.
What do you create? Who do you create for? I create whimsical products for you and your home. Anything from headbands, to custom onesies, to brooches, to mixed media wall pieces. I love creating custom items for the special people in your life. Those are my favorites because I know my work is being made just for you. I make things that might not match and love over-exaggerated pieces. I create for people who aren't afraid of color.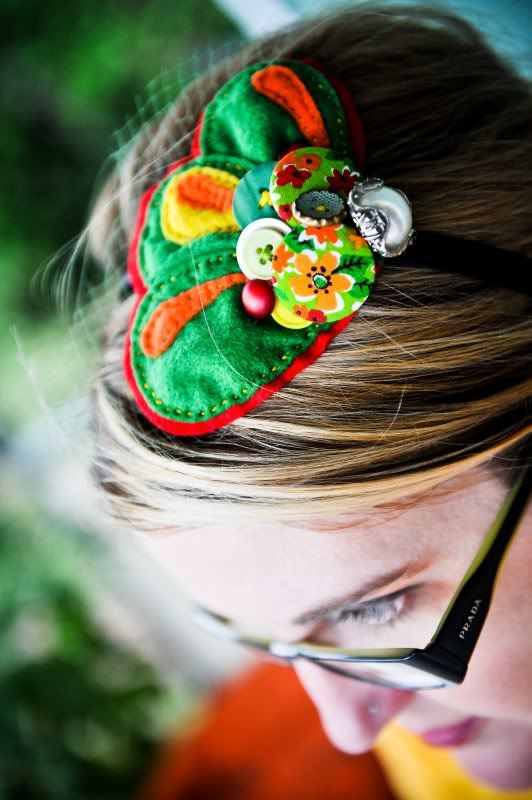 How did you get your start? I have been crafting all my life, I had the wonderful opportunity to grow up with artists parents (Robert and Dolores Wells of www.wellsmetals.com). I can't even remember the first time I created art – I feel like I have been an artist/crafter my whole life. What a great way to grow up in this world.
What's the best thing about what you do? And the worst? The best thing about what I do is being able to create on a daily basis. The worst thing is doing shows and having slow days, because no matter what you ALWAYS take it out on yourself, because in a sense you are selling yourself.
Do you have a favorite place? If so, why is it your favorite? I have many favorite places – But there are so many places that are sacred to me – my mother's home because of the warmth, the mountains because I am at peace there, and mostly at home with my husband and fur babies – which brings me all my happiness.
What 3 things can't you live without?
my hubby, my fur babies, my family & friends (okay so that was four…)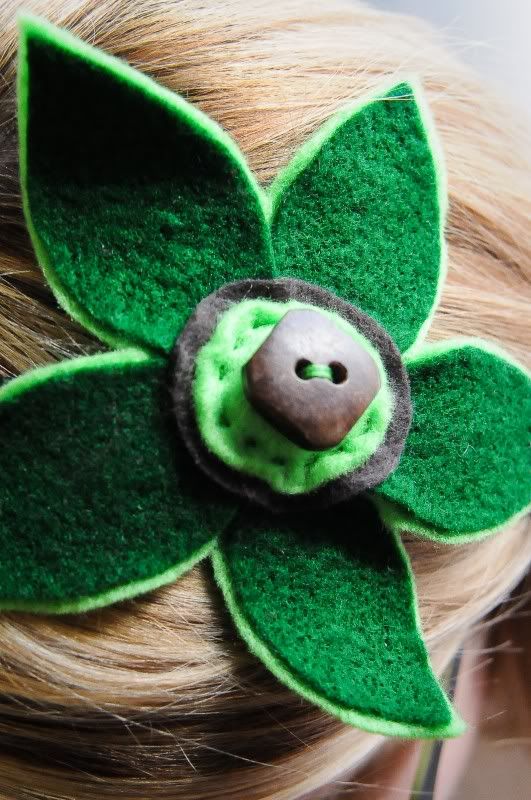 What's one thing you've learned as an adult that you wish you knew when you were a kid? When I was 23 I was in a fire that almost took my life – that experience taught me to never take life for granted and always tell people you love them, because you never know if it will be the last time you see them. I wish I had of known that all along. But I am glad I have this life to keep living and loving.
Do you financially support yourself by your art alone? No – but it gives me some money to spoil myself
Where do you get your inspiration? From everything around me – whether it be catalogs, magazines, a good antique shop or a walk around the neighborhood. I find inspiration daily.
Where do you create? I am in the process of turning a spare bedroom into a studio – it is a work in progress, and probably always will be. But it has a workspace, happies all around and a tv – what more could I ask for?
What is the most fulfilling part of your creative life? Making people happy – to see a happy customers wearing my items.
What goals do you wish to accomplish in the coming year? I want to continue to build my business – one step at a time. I am really enjoying what I am doing, and I want to keep being able to do what I love.
Do you have a mentor? If not, who would your dream mentor be? My parents have always been my mentors – they have been full time artists my whole life and they are my biggest fans. It is wonderful to have two parents who have been through it all in the art world, a great source of inspiration and advice.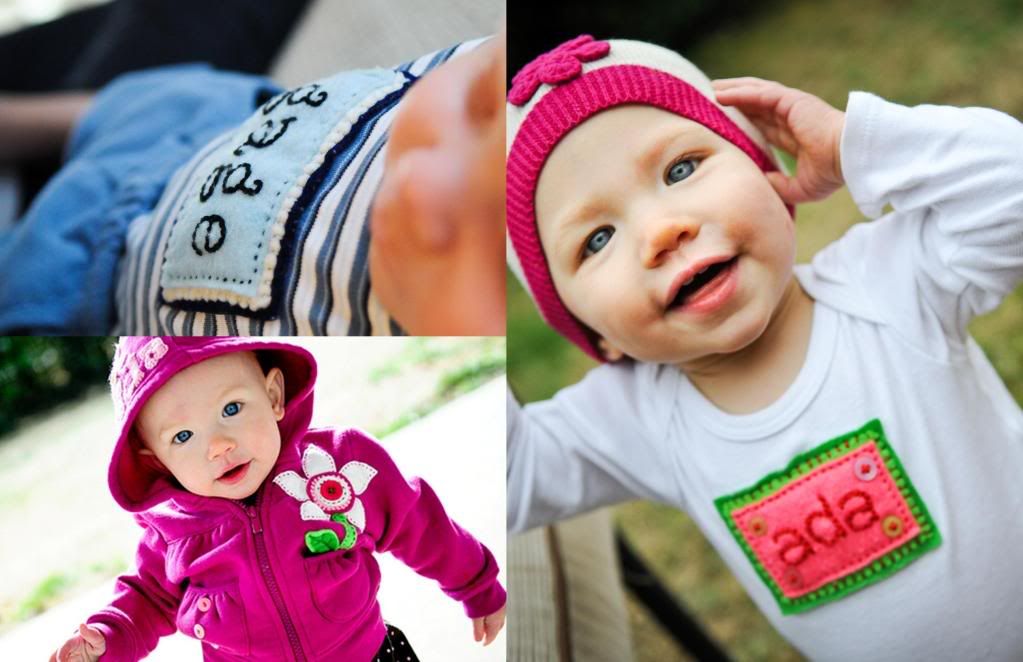 Is there anything else you'd like to share? Here's a little story about how I got the name Ivey Handcrafted. Ivey is my great grandmother's name…and what we hope will be our little girl's name one day. We started the adoption process in 2004 and have had two adoptions fall through – one being from China and one domestic. The international one we assumed would be a girl so we were going to name her Ivey – and I started Ivey Handcrafted as an adoption fundraiser, that eventually turned into my business. We still don't have our Ivey, we are working on our third try. Let's hope third time's a charm.
Thank you for sharing this information with us today, Tobi! I'm thrilled you were able to participate.
[Photography: www.moncriefphotography.com]